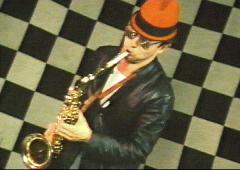 SKA.

Good Ska Links.
SPECIALS HOME PAGE
ATTEMPTED SKA PAGE
FIRST WAVE SKA
MADNESS PAGE
ENGLISH BEAT PAGE
SKALIWAGS SKA PAGE
THE SELECTER
PRINCE BUSTER
A TO Z SKA PAGE
VESPA SCOOTERS

A SKA FAQ.-Answers to just about every question you've ever had about ska.(taken from the "Attempted Ska Page".)

My Thoughts.
i like to listen to first and second generation ska...all this new third wave crap just doesn't do it for me....everyday i hear kids telling me how much they love ska....so i ask them who they listen to...and they start naming off all these third generation bands like bosstones,less than jake,skankin pickle,skastafarians,voodoo glow skulls and goldfinger...never once do they mention any good ska bands....third wave ska is the sound everybody in the industry is looking for...it is economically viable...is it any wonder why the first release off rancids "wolves" album was "timebomb?"...third wave ska bands are a dime a dozen...i mean..whatever you wanna listen to..it's cool..it's your desicion....but for me...i prefer the older stuff.
My Favorite Ska Bands.
my favorite ska bands are....the specials,english beat,slickers,madness,desmond dekker,cecil loyd,special beat,checkmates,skatalites,the selecter,the techniques,100 men,the flames,bad manners and the trojans.


Messages have been given to Rudie.
BACK TO THE BLUE TILE LOUNGE.